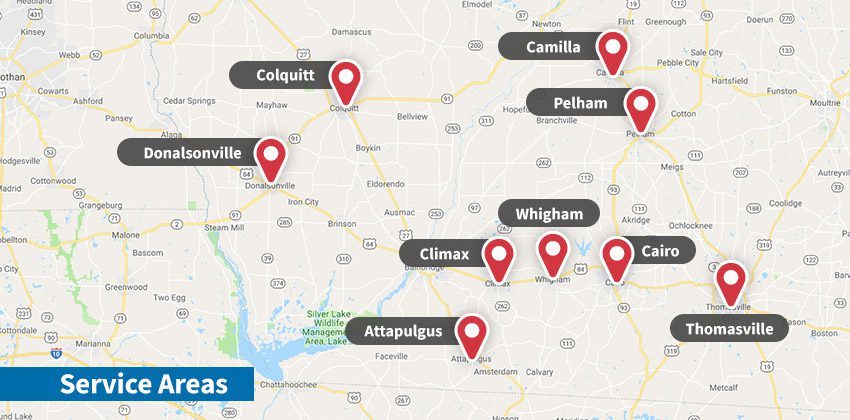 As a homeowner, keeping all of your appliances and systems working like they should is one of your top priorities. Whether you're dealing with plumbing problems, HVAC maintenance, or are considering upgrading and remodeling your home, it's usually a stressful experience. Because of this, you want to be sure you have the best people on your side.
At Cooper's Plumbing & Air, we want to be lifelong partners in keeping your home working at its best and providing you with the comfort you deserve. We help Bainbridge, GA residents and the surrounding areas with their HVAC and plumbing repairs, maintenance, and installation. We will work with your budget to meet your needs and offer you the best possible experience.
Want to read about what our customers enjoyed about our service? Visit our reviews page to hear from our happy customers.
We Serve Your Area
Cooper's Plumbing & Air services the Bainbridge area and the surrounding neighborhoods. If you want a professional plumbing and HVAC experience in these cities, give us a call!
If you don't see your city listed, don't fret! Call us today to find out if we service your area and we can help you find the best services in your locality.
Why Choose Us?
We are always dedicated to our customer's satisfaction because we understand how important being comfortable in your home is to you. When you work with us, you can expect to enjoy the many benefits that make working with us stress-free and pleasant including:
Flat Rate Pricing: You will always know what your service costs before the job is even started so that you can budget for your repairs, installations, and maintenance.
Answer Your Calls 24/7: If you have a plumbing emergency and need to get in touch with a knowledgeable person, we have a live responder on the phone to answer your calls 24/7.
Knowledgeable Technicians: Our technicians are licensed and trained so you can always expect an accurate and fast response to your pressing plumbing HVAC and plumbing issues.
Best Warranties: We offer the best warranties in town so you can feel confident that your repairs and appliances will last you a long time.
Courteous Service: Our technicians are mess-free because we care about your home. We wear shoe covers and use floor covers while we work.
Because of our experience, you can be sure that we pride ourselves on customer satisfaction. We offer personalized and courteous service when completing all of your home needs. We will be there for you with customized solutions to your HVAC and plumbing problems.
Get to know us a little better when you visit our About Us page today!
Call Today!
Whether you need a plumbing contractor or HVAC contractor, you can count on the experts at Cooper's Plumbing & Air. We are servicing your neighborhood and the surrounding areas so give us a call. We will provide you with professional and reliable repairs!