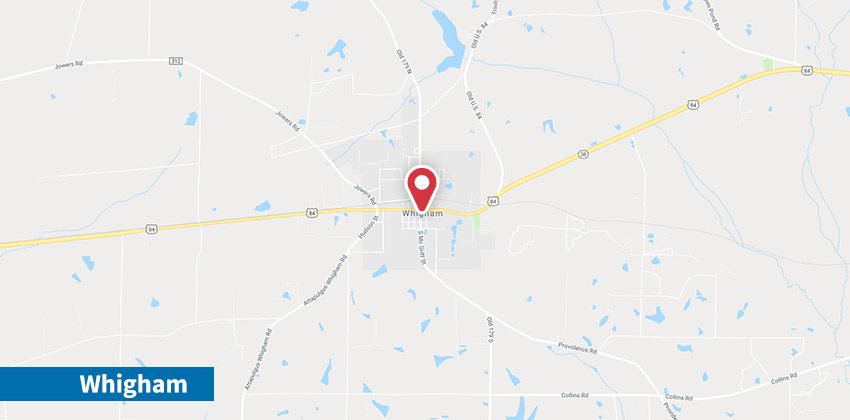 Summers in Georgia can be downright brutal with the heat and humidity. When the heat hits, don't get caught without a functioning AC system. Make sure your unit is working well by getting regular maintenance and tune-ups — on both your air conditioning and heating systems. Cooper's Plumbing & Air provides 24-hour heating and cooling services throughout Whigham and the surrounding areas.
We offer complete heating and cooling services to the Whigham, GA area:
Heating Repairs
Heat Pump Services
Air Conditioning Repairs
Air Conditioning Installations
Ductless Mini Split AC System
Furnace Repairs
Furnace Installations
Evaporator Coil Services
Air Handler Services
We make customer satisfaction our top priority. See what our clients are saying through our testimonials.
Signs Your Heater Needs to be Replaced
When the winter temperatures hit, you need to ensure your heating system is functioning properly. To make sure you're not left in the cold, it's important to replace your unit before it malfunctions completely. Watch for these signs that can signal when you should replace your heater.
Age. Older units should be replaced as they lose efficiency and suffer wear and tear.
Multiple repairs. If you need to repair the heater frequently it can be more cost-effective to replace the unit.
Utility bills continue to go up. If your utility bills continue to rise it can signal you should replace your unit for a more energy-efficient model.
Cracked heat exchanger. A cracked heat exchanger can cause a dangerous carbon monoxide leak. If your unit has a cracked exchanger it should be replaced immediately to ensure the safety of your home and family.
Cannot heat your home properly. If your system is not properly heating your home you may need a newer model.
Benefits of Installing a New AC Unit
There are a lot of advantages to installing a new air conditioning unit. It can ensure your home stays cool in warm temperatures, and can save you money on energy and repairs. Other advantages include:
Increased energy-efficiency. Newer units are more energy-efficient, which can help lower your utility bills.
Maximum indoor climate control. New systems offer more indoor climate control to more properly cool your home.
Improved indoor air quality. New units have better filtration systems to provide better indoor air quality in your home.
Longer shelf life. Newer systems can last longer than older units.
New technology and features. New units come with the latest technology and features to improve your air quality and overall cooling.
We understand buying a new heating or cooling system can be a financial burden. That's why we offer financing options!
Common Furnace Problems
From time-to-time, all appliances need repairs. Unfortunately, furnaces are no different. Check out some of the most common issues your unit might encounter.
Lack of maintenance: To ensure your unit functions properly, it's important to get it serviced regularly.
Dirty or clogged filters: Changing your furnace filters regularly can prevent dust, dirt and other debris from building up and causing your unit to malfunction.
Mechanical wear and tear: As your system ages it can develop more issues and lose efficiency. At this point, it can be more cost-effective to replace the unit.
Malfunctioning thermostat: If the thermostat doesn't match the temperature in the house it may require a professional to inspect the device.
Inadequate airflow: Your home needs adequate airflow to ensure your unit doesn't overheat.
Carbon monoxide leak: Carbon monoxide leaks are serious and should be inspected immediately. If the pilot light on your unit has turned from blue to yellow, or if you notice an excessive amount of condensation on your windows, or start to feel sick in any way, you should evacuate your property immediately.
[serviceareareviewcombo city="Whigham" state="GA" reviewcount="5" checkincount="5"]