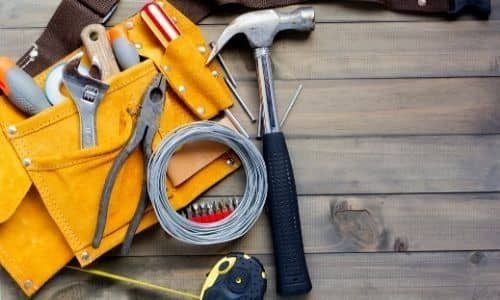 HVAC Tools Every HVAC Technician Uses
Have you ever wondered about the different jobs that HVAC technicians do and the tools that they use to do them? HVAC technicians are very versatile professionals. They are trained in three different components: heating, ventilation, and air conditioning. The jobs that technicians do are very important because they maintain heating and air conditioning systems in homes, office buildings, schools, and more.
They are in charge of keeping everyone healthy and comfortable, and they wouldn't be able to do it without the proper tools. There are essential tools that are needed for almost any job, like hammers and screwdrivers.
Some jobs require more specialized tools, like power drills. HVAC technicians also need to use gear for safety, like gloves and safety glasses. Read on to learn more about the tools that HVAC technicians use, and what they use them for.
HVAC Tools for Every Job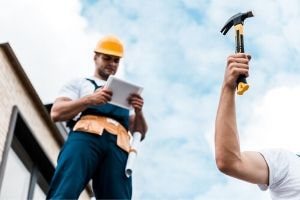 Some
essential tools
that an HVAC technician needs for every job include tools like hammers, screwdrivers, pliers, and tape measures. These tools are highly versatile and can be used for a variety of jobs.
Most technicians should be equipped with multiple sizes of screwdrivers to be prepared for any size screw. Pliers are a necessity to deal with wires, bolts, and pipes. Other essential tools include flashlights and wrenches.
Flashlights, or hands-free headlamps, are vital to make sure that a technician can see the job clearly. Wrenches, like screwdrivers, should be in multiple sizes to be prepared for gas lines and plumbing pipe connection.
Specialized HVAC Tools
HVAC technicians regularly need to perform jobs that require more specialized tools. For example, technicians need to have tools like cordless drills on hand to deal with sticky screws and to drill holes. Drills are extremely versatile, and having a cordless drill is important for working on remote projects. It is also important for HVAC technicians to carry a multimeter at all times.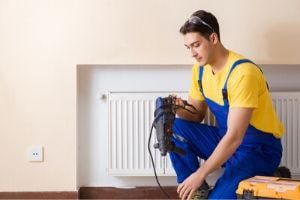 These devices tell a technician when electricity is present and what the voltage is, which is extremely important since HVAC techs work around electrical hazards and live wires. Digital thermometers are also important because they help measure the systems that the technician is working on. Some other specialized HVAC tools include saws to cut through materials, a caulking gun to seal ducts and fill holes, and a vacuum pump to suck moisture out of lines.
Tools That Keep HVAC Technicians Safe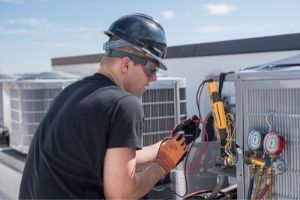 Staying safe on the job is extremely important for HVAC technicians. They must stay safe and healthy to continue working, so it is vital that technicians keep
tools that will keep them safe
in their toolkits at all times.
Gloves are important to protect their hands from cuts and scrapes and to give them more grip for certain tasks. Safety glasses are necessary to protect their eyes from metal and dust debris.
Protecting their eyesight is important for HVAC technicians because they need to be able to see tiny details to do their job properly. Technicians also need to use earplugs when using loud power tools to protect their hearing.
Experienced HVAC Technicians At Your Service
Cooper's Plumbing & Air is a locally-owned and operated business based in Bainbridge, GA. They offer flat rate pricing on all services and offer a range of financing options for bigger services like repiping or new AC installation. Cooper's Plumbing & Air also has staff available 24 hours a day, 7 days a week, 365 days a year, so there's no need to wait when you have an HVAC emergency.