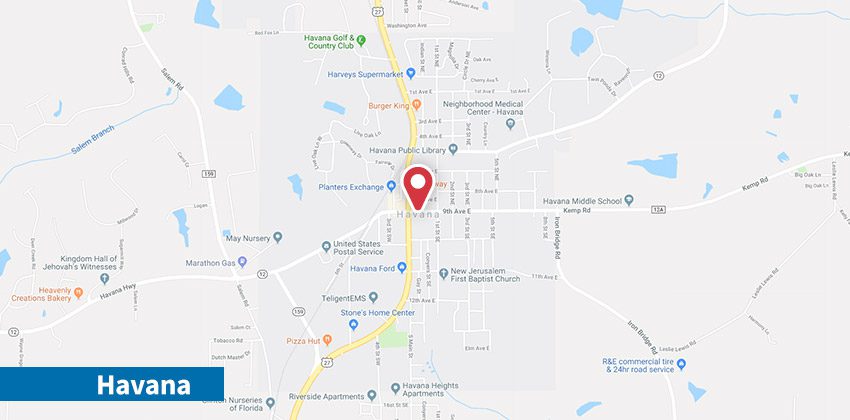 We don't want you to sweat the small stuff. Call us today for fast, friendly 24 hour AC service that you can rely on. We have the best prices and highest customer satisfaction around.
Too good to be true? See what Havana, FL has to say about us in our customer reviews! We aim to leave you with a good experience and the results you expect. Schedule and appointment to see for yourself.
Common AC Issues to Pay Attention to
The most obvious problem with your AC unit is if it is not producing cold air, even when the thermostat is turned to the lowest setting. Intermittent cooling or a complete lack of climate control is a serious red flag that your system needs to be serviced by professionals.
If air is not flowing through your vents properly, it will cause your system to work harder in an attempt to cool your property. Your home or building will not be sufficiently cooled down and you will begin to see a steady increase in your monthly utility bills.
If some sections of your property are warmer than others, it could be caused by a malfunctioning thermostat.
Moisture can leak from around the air conditioner, indicating that the drain tube is blocked or broken. Refrigerant can also leak, which can lead to a number of health problems.
24/7 Service to Fix Problems as Soon as They Happen
What constitutes an emergency? If you find yourself in one of the situations below, call us immediately.
If you notice a severe refrigerant leak, an electrical problem that could start a fire, or problems with heaters, boilers, or furnaces.
If your heating system goes out and temperatures fall below freezing. This could cause your pipes to freeze.
If anyone who has disabilities or small children needs to keep their home at a comfortable temperature so health related issues can be avoided.
If your gas-powered heating system cracks. Gas can leak into your property and could become life-threatening.
Not in a threatening situation but still care about air quality and the wellbeing of your household? Take a minute to read about our air filter replacement service.
Energy Efficient Options for Your Home or Business
There are different heating and cooling systems on the market, and as questions rise about the effects of pollutants, geothermal indoor climate control is a great answer. In addition to their eco-friendly aspect, here are some other convincing benefits.
Lower Operating Cost: Specifically, studies have shown that home and building owners can save as much as 70% on their heating and cooling bills.
Enhanced Comfort: Geothermal systems provide precise distribution of comfortable air all year long, eliminating hot spots and cold spots.
Quiet: Geothermal systems are designed and constructed for quiet operation.
Reliable: Unlike air conditioners and heat pumps, geothermal systems are installed indoors, so they are not subject to wear and tear caused by rain, snow, ice, debris, extreme temperatures or vandalism.