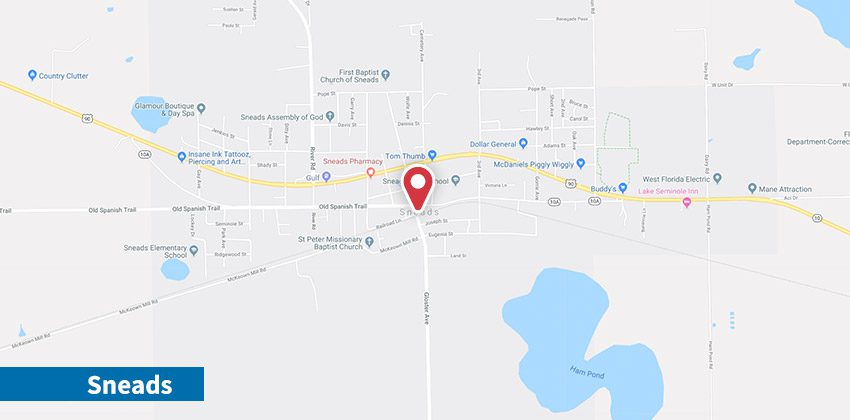 We will come to your property day or night, as our 24 hour service to Sneads is just a call away. Don't put up with slow drains and foul odors coming from your home or office plumbing. We'd love to get your system running efficiently for you in Sneads, FL.
Water Heater Services
Tankless Water Heater Services
Burst Pipe Repair
Water Leak Detection
Gas Leak Detection
Drain Cleaning
Sewer Line Repairs
Kitchen Plumbing
Bathroom Remodeling
Clogged Toilet Repair
Customer reviews are a great way to know if you can trust a company. We encourage you to read ours, as our customers back our services.
A Few Things Your Sewer Line is Trying to Tell You
If you notice these issues, give us a call today before it is too late. Catching a problem early will save you a lot of time, money, and headache.
Drains are slow to empty out or will not empty out at all.
Multiple drains that are clogged at one time.
A strong smell of sewage in or around your property.
Bubbling sound when you use the sink or flush the toilet.
Standing water around the sewer line.
Water backing up out of your tubs, toilets, and sinks.
Benefits of Tankless Water Heaters
These industry-best water heaters save space and don't make you wait for hot water. They are more energy efficient than traditional units, too, because they only heat what you demand rather than continuously heating a full tank. Since they operate sparingly, parts last longer, the system is more efficient, and they are ultimately a safer option.
Take a look at our membership plan, where you can get priority scheduling, preventative maintenance, and discounts!
Get Your Drains Cleaned if This is You
You may need professional drain cleaning services if you're experiencing:
Slow drains: Slow drains can indicate a variety of problems, including the early stages of a clog, pipes that have been narrowed due to mineral or grease buildup, or even improper grading of your drainage system.
Recurring clogs: If you find yourself having to clean out hair and other substances from your drain frequently, chances are you're not succeeding in removing the entire clog each time. If a clog returns after you've attempted to clear it yourself, you need to hire an expert.
Multiple drains that are clogged at one time: This could indicate a severe blockage deep within your main line.
Foul odor: Food could be trapped inside your drain or there could be a major issue with your sewer line.
Flooding: One of the worst problems associated with clogged drains is a sewage backup. If you notice evidence of flooding in your basement and/or near a floor drain, this could indicate a clog and it may just be a matter of time before the drain stops working completely and you end up with contaminated water all over your floor.