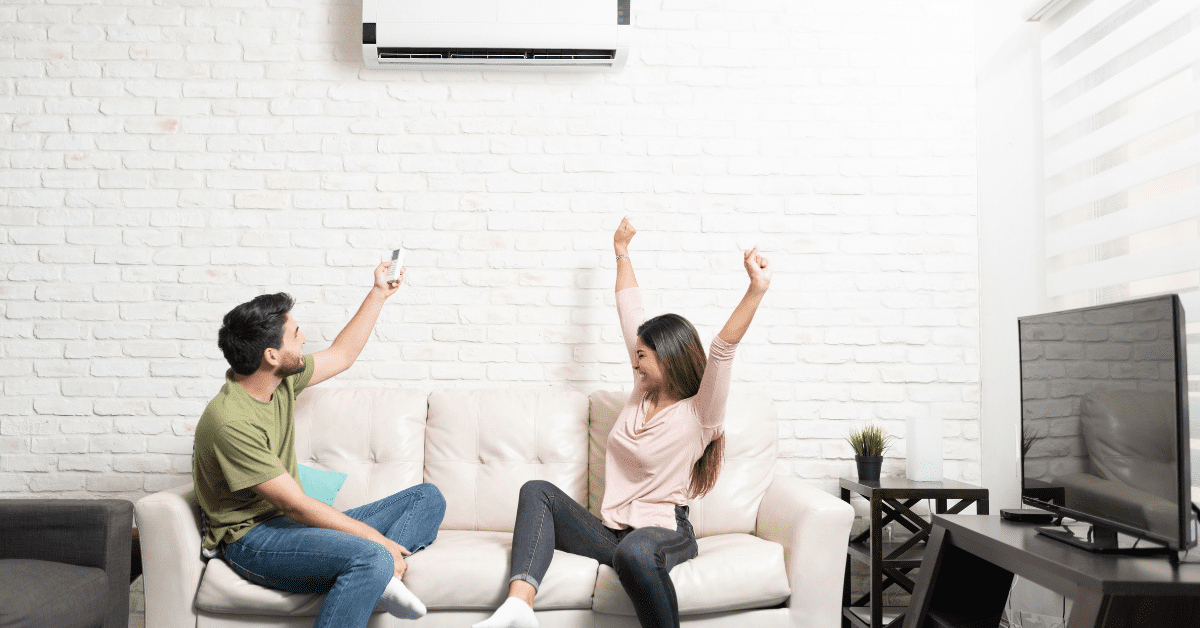 A mini-split ac is an efficient solution if you need heating and cooling for a small addition such as:
Attic

 

Bonus room
Finished garage

 

Garage workshop
These cooling systems are often referred to as ductless air conditioners.
If you live in Tallahassee, air-conditioning is almost a necessity. However, a central air-conditioning system might not be suitable for every home in Florida.  Some rooms just don't have the space required for a traditional central air conditioning system. Typically these rooms lack the space required to install the ducting needed for these systems to work. Our answer to this issue? The mini-split ac system, better known as a mini-split air conditioner.
It's no surprise that mini-split air conditioners have seen a notable rise in popularity in recent years. In terms of quality and flexibility, a mini-split ac provides the best of both worlds. Although mini-split air conditioners aren't as widespread in Tallahassee, Florida, as they are in other parts of the country, the benefits of owning a mini-split ac are impossible to overlook. Its advantages include:
Small size

 

Highly Flexible (easy installation)
Save Money
Muti-zone (up to 4 rooms)
Exceptionally Energy Efficient
Improve Indoor Air Quality(IAQ)
At Cooper's Plumbing & Air, we provide a comprehensive selection of mini-split ac units and installation services. These systems are a cost-effective and energy-efficient alternative for cooling spaces that won't allow for traditional ducted air conditioning systems.
What Is A Mini-Split AC?
A mini-split ac is an air conditioner that cools and heats. It differs from traditional air conditioners and heaters in several aspects. Unlike central air-conditioning systems, mini-splits do not require ductwork or ventilation. Instead, they operate in a far more simple, integrated way. A mini-split system can be divided between the inside and outside of your home and utilizes two main components. The indoor part of a mini-split represents the device's most recognizable feature, and you've almost certainly seen them before. They're huge, sturdy white horizontal devices that normally go above windows or higher up on your house's outside walls. A large component known as a condenser usually sits on the ground or is mounted to the wall on the outside of your home. The versatility of the mini-split gives you the option of selecting where it goes and how it can best fit your needs. A compact air conditioner might just do the trick if you're building a house, renovating, or have a small room with no air-conditioning.
Pros of Using a Mini-Split AC
It's Cost-Effective
When you compare ductless mini-splits to typical air-conditioning systems, you'll quickly see how much less expensive they are. Although the equipment itself is not expensive, the cost of installation for traditional air-conditioning systems is extremely high, especially if you opt to install one during the summer.
They're More Energy Efficient
While you may think that a smaller air-conditioning system is less efficient than a larger system, the truth is that it can be just as effective. Traditional air conditioners use significantly more energy than mini-splits to cool, heat, and dehumidify your home. This is because mini-split air conditioners only affect the areas you want heated or cooled. This reduced energy consumption saves you money and helps the environment.
Smart Control Technology
Compared to central air conditioning systems, a mini-split ac offers far more operating capabilities because it allows for additional smart programming features. For example, by integrating kumo cloud® into your mini-split ac system, you'll be able to adjust the cooling and heating through your smartphone. Whether you're out for the day or away for the month, you'll be able to set your desired temperature for wherever you want. It works for both single-zone and multiple-zone systems, which means you'll be able to control the temperatures in each location. 
Don't want the hassle of having to turn on your mini-split ac system? Have your home cooled or heated to how you like it; scheduled to fit your time. Having a kumo cloud® will allow you to improve your system's overall efficiency and provide additional energy savings. You also have the option of adding a kumo station™ which will allow you to control additional heating, humidification, and ventilation all from your smartphone.
It's Ductless
As mentioned above, they're ductless, meaning you can heat and cool an entire house even if there is no existing ductwork. This makes it a healthier option as cooled or heated air is directly delivered to the room instead of through air ducts. This can also save you up to 30% on your energy bills. Furthermore, if your home does not already have ducts, you avoid the inconvenience and cost of installing them.
The Ease Of Installation
If you've ever had a typical air-conditioning system installed, you know it can take several days. The time it takes to fully install a central air-conditioning system is determined by various factors, like whether you are installing a new air-conditioning system for the first time or replacing an existing one. The size of your home will greatly affect how long the installation will take, and you may be required to make some renovations to include the ductwork. On the other hand, mini-split systems don't require complicated installations as they do not require heavy renovations for ducts. The technician will only need to drill a hole for the electrical and drainage cords, and the whole installation can be completed within an hour or two. The best part about picking a mini-split system is that your air-conditioning is ready to be used as soon as it's installed, saving you time, effort, and energy.
It's Less Noisy
Mini-splits operate at lower noise levels, making it perfect if you want a cool, calm, and quiet environment. The noise level is comparable to lightly rustling leaves.
Cons of Using a Mini-Split System
It's Big and Bulky
Since the two components that make up a mini-split are fairly large, some people dislike the appearance of the internal component in their home. The usual workaround would be to conceal the internal component behind a grill or in a separate compartment. If you don't do this, your system will be visible, and there's no good way for you to hide it. Also, having a separate compartment to conceal your mini-split will raise installation costs.
It Requires Regular Maintenance
A mini-split requires regular maintenance as it has a filter to catch dust, hair, and other debris in the air. Though to some, this might be a positive as it would mean you're getting cleaner, filtered air in the room.
It's Not Ideal For Large Spaces
If your home is big and has high ceilings, you may need more than one mini-split air conditioner to maintain its temperate at your desired level. A mini-split would be ideal to cool/heat individual rooms or particular areas in your home.
Higher Upfront Costs
The purchase and installation costs of a mini-split system would be about 30% more than a new central unit. This is, of course, without factoring in the costs of the ductwork that central units need. It will cost less to operate in the long run, but you will need to put in that initial investment to get everything set up.
A mini-split ac is the best option for anyone looking for a hassle-free solution to air-conditioning individual living spaces rather than maintaining the same temperature in every room. Here at Cooper's Plumbing & Air, we have provided exceptional service and support to our customers in Tallahassee, Florida, since 1997. If you have any questions about installing a mini-split in your home, please do not hesitate to get in touch with us at 866-464-7132
Don't forget to ask about utility rebates and easy finance options!
The Expert Team at Cooper's Plumbing and Air Can Help Solve Your Plumbing, Heating and Cooling Needs In Tallahassee So You Can Enjoy A Stress-free Summer! Call 866-464-7132 Or Click Here to Schedule An Appointment.