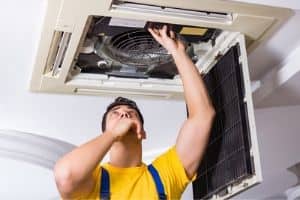 HVAC systems are essential when it comes to heating and cooling the home, as well as ensuring optimal air quality and ventilation. Proper maintenance of your HVAC system is of the utmost importance, as day to day wear and tear coupled with dust and debris building up in the filters can result in your heating and cooling system overworking and overall poor air quality.
Florida weather often calls for the air conditioning to run on a semi-regular basis, especially during the summer months.  When properly maintained, HVAC systems can last up to 15 years or longer, and the good news is that by following some simple maintenance tips, you can keep your system running at its best with little to no issues.
HVAC Maintenance Tips
As the seasons change, HVAC systems are constantly running to ensure cool air and comfort during the summer months and keep homes heated during fall and into winter. Continual use can naturally lead to wear and tear, and it's important for homeowners to perform periodic maintenance checks to determine that everything is running as it should.
Many maintenance checkups can be performed without the assistance of an HVAC professional, however, it's also a good idea to enlist the services of a skilled AC repair Tallahassee technician if your system's air temperature isn't consistent, or if you notice any unusual noises coming from the vents. Below are some common maintenance checklist items to help you determine if your system is working properly or if it's time to call in an HVAC Tallahassee professional.
Check A/C Filters
A dirty A/C filter is a common problem many homeowners face during the summer months, especially during heat wave periods when the system is running on a continual basis. When left unchecked, dirty air filters can freeze up, which can lead to water damage and failure of the entire unit in some cases.
During the summer, checking the A/C filter once a month is a good way to prevent build-up of dust and debris that can lead to clogs and damage. If your A/C filter is reusable, it can easily be cleaned off by removing it from the system and either wiping it down with a wet cloth or running it under a gentle stream of warm water. Make sure the filter is completely dry before replacing it back inside the unit.
As summer comes to a close, it's always a good idea to wash the filter one last time or replace it entirely. If you check or replace your filters and notice that your system isn't running efficiently, it's important to schedule a maintenance call with an HVAC specialist who offers air conditioning repair in Tallahassee.
Clean A/C Condenser
Air conditioners that are located outside of the home are prone to picking up dirt, dust, and other natural debris as the summer months settle in, and in many cases, even a good summer storm isn't enough to keep the condenser clean. An easy way to remedy this is to check the unit once a month for leaves, dirt, and visible debris on its top and sides. If there is significant build-up, take a dust cloth and wipe off any dry debris, then take your garden hose and spray down the fins. This will help ensure that air flow will remain balanced and your unit won't have to work extra hard due to clogs and damaged internal components.
Clean A/C Drain Lines
When excess moisture builds up in the drain lines, this can lead to clogs and a poorly running system. Check the drain line by removing the cover of the A/C unit. Wipe down the drain line with a soft cloth to remove any accumulated sticky dust or dirt. If you notice that the drain lines have developed mold that cannot be wiped off, or if you notice mold in the drip pan below the drain line, this may be a good time to contact a Tallahassee HVAC specialist. Moldy drain lines can lead to poor air quality inside the home, and even cause allergic reactions in sensitive individuals.
Change Out Furnace Filters Before First Cold Snap
Similar to A/C units, your central HVAC heating system can only run properly if the filters are clean and free of debris. While Florida winters tend to be milder than the northern and Midwest states, temps can drop below freezing from time to time, so it's important to ensure your heating system is up to the task. After you've changed out the filter, check the pilot light to ensure it is emitting a clean blue flame. If the flame has an orange or yellow tint, contact an HVAC technician for a maintenance call.
Professional HVAC Maintenance in Tallahassee
While there are many simple HVAC maintenance checks that can easily be performed by homeowners to make sure their heating and cooling systems are working properly, there are also times when it's best to call in a professional to perform essential repairs and accurately determine if the units are working as they should. HVAC technicians are certified and professionally trained to detect minor issues that can lead to severe damage if not remedied properly.
During a professional HVAC A/C or furnace inspection, your professional technician can assist in a variety of ways. They can check and change out filters in both your A/C unit and furnace, and they can assist with cleaning out the drain lines and replacing moldy drip pans.
Your HVAC technician can also test your indoor air quality to ensure that the circulating air in your home is free of dust and potential contaminants, and they will perform repairs on the spot if they detect any potential issues.
By performing your own self-checks and enlisting the assistance of a professional when your system isn't working at top capacity, you can safely extend the life of your system and prevent any future damage.
Get in Touch Today Call our experienced professionals for home, business, and emergency service for your heating and cooling systems. Our customer service is as reliable as our leading heating specialist in Tallahassee.
We have a satisfaction guarantee and pride ourselves on the quality of our service. If you want the best HVAC service provider to get the job done right, call Cooper's Plumbing & Air today!